Brand: Greenara
Regular price
Rp 30.000
Sale price
Rp 14.900
Unit price
per
Sale
Sold out
Rasakan rasa yang kuat dan bumi dari Daun Sage Kering kami. Dengan petunjuk pinus dan sentuhan sitrus, rempah ini menambah kedalaman dan kompleksitas ke berbagai macam hidangan. Lebih dari sekedar bumbu, sage kaya akan antioksidan dan telah diakui karena manfaat kesehatannya yang potensial. Taburkan ke dalam rebusan, saus, atau gosokkan pada daging untuk transformasi rasa yang menyegarkan.
Experience the robust, earthy flavor of our Dried Sage Leaves. With a hint of pine and a touch of citrus, this aromatic herb adds depth and complexity to a wide variety of dishes. More than just a seasoning, sage is rich in antioxidants and has been recognized for its potential health benefits. Sprinkle it into stews, sauces, or rub onto meats for an invigorating flavor transformation.
Info Pemesanan

Ketersediaan dan rincian semua produk yang tercantum di seluruh platform Greenara dapat berubah seiring waktu tanpa pemberitahuan sebelumnya. Pelanggan bertanggung jawab untuk mencatat detail produk apa pun yang diminati sebelum melakukan pemesanan.
Info Pengiriman

Jadwal Pengiriman: Senin – Sabtu

Saat ini Kami menggunakan jasa Pick – Up Kurir yang artinya pengiriman menunggu kurir datang untuk mengambil paket (estimasi pengambilan Pk. 15.00 – 18.00) bergantung pada kondisi di jalan.

*Jadwal pengiriman diatas masih bisa berubah bergantung pada keadaan – keadaan di lapangan yang tidak terduga.
Belanja Min. Rp 249.000 Dapatkan Gift Cards Senilai Rp 50.000 Gratis!
Click / Tap Gambar untuk Klaim Gift Card dan Masukkan Ke Dalam Keranjang Kamu View full details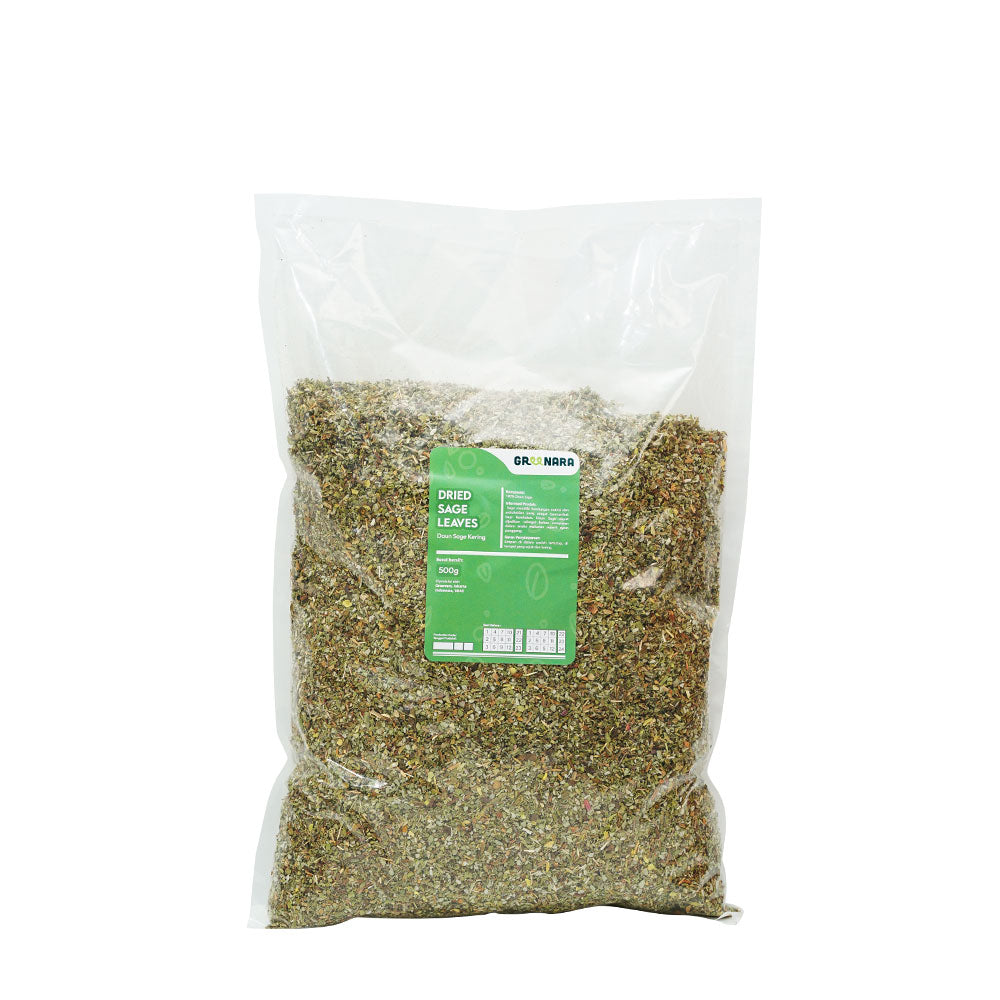 Greenara
Seluruh produk Greenara diproses menggunakan bahan - bahan yang aman dan tidak mengandung pengawet, pewarna, perasa dan pemanis buatan sehingga baik untuk kesehatan meskipun dikonsumsi dalam jangka panjang